I just started dolling recently, after joining EE forum and UG. I've been impressed with pixel art and pixel-shaded dolls for year, but only had enough time to try my own had at it. Here's my first go - I spent three or four days, and over 6-7 hours getting it to work out nicely....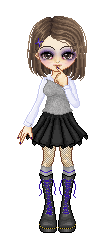 Me, as a Ravenclaw Hogwarts student (Yes, I'm a HP fan).
Yume Studios for base, and E-Candy for hair references.

C & C is welcome! I was going to add a tie, or winter scarf... but I couldn't get them to do justice with the rest of the doll (any tips on doing either?). I'll update when I get the back ground and the props done.

I'm going to try my hand next at pixeling scenes and little game sprite etc. And I might animate this one when i put her on a background.